WEIGHT 99.8% ALUMINUM OXIDE (ACI-998)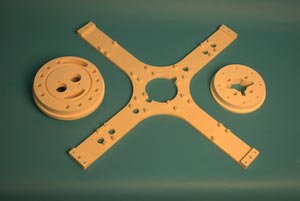 ACI-998 ALUMINA is the most popular technical alumina ceramic for ACI's customers in various industries. Highly due to its high electrical insulation property, sound mechanical performance and excellent corrosion resistance, ACI-998 Al₂O₃ has been applied in many industries that include semiconductor, automotive, oil and gas energy, medical and health, military defense and armor industries.
With over 20 years of experience in the fine ceramic & alumina ceramic manufacturing business, ACI produces this state-of-art technical machinable ceramic alumina from ultra-pure raw powder for ultra-precision parts.
Looking for 99.5% weight aluminum oxide (ACI-995)?
APPLICATIONS
Semiconductor
Automotive
Oil & Gas Energy
Medical & Health
Military Defense & Armor
MAIN PROPERTIES
Molecular Formula: Al₂O₃
High Electrical Insulation
Sound Mechanical Performance
Excellent Corrosion Resistance
ACI-998 Alumina

| | | | |
| --- | --- | --- | --- |
| Properties | Units | ACI-998 Alumina (weight 99.8% Aluminum Oxide) | 99.5% Aluminum Oxide |

MECHANICAL

| | | | |
| --- | --- | --- | --- |
| Density | gram/cm3 | 3.9 | 3.8-3.9 |
| Color | – | ivory | ivory/white |
| Water Absorption | % | 0 | 0 |
| Flexural Strength | MPa@room temp.(R.T.) | 400 | 310-379 |
| Compressive Strength | MPa@R.T. | 3180 | 2070-2620 |
| Hardness | GPa | 14.0-15.0 | 13.8-17.6 |

THERMAL

Coefficient of Linear
Thermal Expansion
1E-6/°C
(»25°C to Ј1000°C)
8.0
9.0-9.4
Thermal Conductivity
W/m°K@R.T.
29.5
25.1-35.6
Specific Heat
cal/g°C@R.T.
0.21
0.19-0.21
Thermal Shock Resistance
D T(°C)
250
200
Maximum Use Temperature
°C
1800
1600-1750

ELECTRICAL

| | | | |
| --- | --- | --- | --- |
| Volume Resistivity | Ohm. cm@R.T. | >1014 | >1014 |
| Dielectric Constant | 1MHz@R.T. | 9.8 | 9.6-10.2 |