Industrial Ceramic Products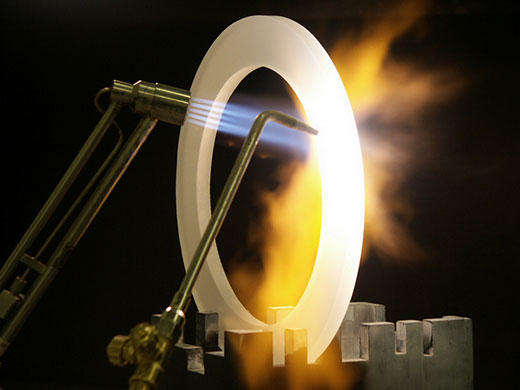 Years of experience in working with ceramics and ceramic products have created unique specializations. The expertise of our engineering and product consultation team will result in the highest purity and quality ceramic products for your application.
Applied Ceramics
has a proven track record in creating products for semiconductor processing equipment, automotive ceramics, cutting tools and many other industrial ceramics.
We commonly machine products for the following industries but can also supply high-end materials for all relevant enterprises:
Aerospace/Aviation
Automotive & Transportation
Consumer Electronics
Laser Equipment
Medical
Military, Defense & Security
Mining
Nuclear
Oil & Fuel
Optics
Precision Measurement Tools
Semiconductors
Solar
Telecommunications
Our ceramics materials portfolio includes 99.8% Aluminum Oxide, 99.5% Aluminum Oxide and more.
Materials Advantages
Applied Ceramics offers a number of distinct ceramics material advantages in our manufacturing process. We have expert knowledge in fabricating the ceramic products you need in a timely manner, and will do our best to ensure you receive the highest quality ceramics materials as possible. We manufacture custom ceramics products from the following high quality materials:
You can view more electrical, thermal, and mechanical information about each of our ceramics materials on our
materials page
.
Ceramic Product Examples & Applications
Some of the more common ceramics applications are in the following categories of Oxide Ceramics, Non-oxide Ceramics, and Ceramic Composites.
Oxide Ceramics are composed of:

Aluminum Titanate (Al2TiO5)
Silicate Ceramics
Zirconium Oxide (ZrO2)

Non-oxide Ceramics are composed of:

Aluminum Nitride (AlN)
Silicon Carbide (SiSiC/SSiC)
Silicon Nitride (Si3N4)
SiAlONs

Other available ceramics are composed of:

Synthetic Sapphire
Pyrolytic Graphite
Applied Ceramics specializes in creating custom ceramics parts and components. Some of the most common ceramic products include Rods & Bars, Sheets & Blocks, and Tubes & Pipes.
Some of the common industries and applications involving our products are:
Dental Ceramics
Dielectric and Capacitors
Bearings and Sealing Technology
Circuit Carriers
Forming Processes
Heat-sinks
Hermetically Sealed Components
Joint Replacement
Machining Applications
Metalworking
Piezo Applications
Pipes and Tubes
Sanitary Fittings
Sensors and Transducers
Silicate Technology
Textile Engineering
Transparent Ceramics
Wear Protection
Welding Processes
Out of the Box: Advanced Material Products
Applied Ceramics has a set of ready-made products available for instant integration into your company's application. Using only the highest quality ceramics and other advanced materials, our suite of products will save you time normally spent on the ceramic manufacturing process and reduce the high costs associated with custom fabricated ceramic products.
Whatever your advanced materials need is, whether it be ceramics, sapphire, quartz, or silicon, our expert technical staff will assist in finding the correct pre-fabricated products for your end product. We have experts for products in each industry where our products are widely used: semiconductor, solar, fuel, oil, nuclear, automotive and beyond.