INDUSTRIAL GRAPHITE & PYROLYTIC GRAPHITE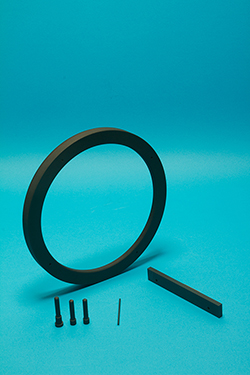 GRAPHITE & PYROLYTIC GRAPHITE MACHINING
Graphite for industrial use is a synthetic material created from crystalline carbon. Through the manufacturing process, graphite is extruded into blocks, rounds or other shapes. Graphite can be produced to deliver specific qualities, such as hardness, porosity or thermal conductivity, among others, by altering how the material is manufactured.
 
Graphite delivers very high thermal resistance and thermal conductivity, making it ideal for applications that experience quick heating such as automobile brake pads. This high tolerance for heat, along with being nearly non-porous, means you will find graphite in a number of casting and refractory uses, such as crucibles and ladle coatings.
 
Applied Ceramics has the experience necessary to precisely machine graphite into a number of shapes and forms to exacting tolerances. Care is needed in machining graphite as the material is different than metal as it does not bend when cut, but can produce minute particles and fissures. Our skilled technicians are well versed in CNC graphite machining techniques to accurately cut graphite into the products customers demand. We can drill, mill, saw or grind graphite to your specifications.
 
ACI is also a supplier of pyrolytic graphite, a unique form of graphite that is a high level of diamagnetism – the ability to repel or be repelled by a magnetic field.
 
Contact an experienced Applied Ceramics professional to discuss your graphite application, learn more about the graphite machining process, and work together to design and deliver the parts you need to your desired specifications.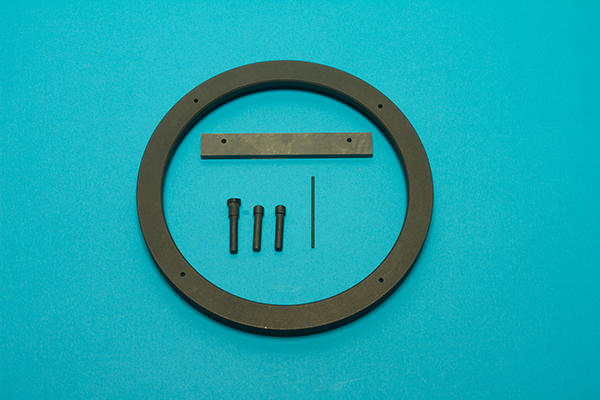 APPLICATIONS
Electrical components such as motor brushes and heat sinks
Industrial castings and molds for continuous casting applications
Carbon fiber products such as automotive and aerospace parts
Refractory and foundry equipment such as furnace linings
MAIN PROPERTIES
High thermal resistance & good thermal conductivity
Resistant to acidic or base solutions
Near-zero porosity
High compressive strength
Low friction and self-lubricating
Graphite

| | | |
| --- | --- | --- |
| Properties | Units | Graphite |

MECHANICAL

| | | |
| --- | --- | --- |
| Density | g/cm3 | 1.57-1.88 |
| Color | – | black |
| Water Absorption | % | 0.5-3.0 |
| Flexural Strength | MPa@room temp.(R.T.) | 50 |
| Compressive Strength | MPa@R.T. | 96 |
| Hardness | GPa | 8.5 |

THERMAL

Coefficient of Linear Thermal Expansion
1E-6/°C
(»25°C to Ј1000°C)
8.39
Thermal Conductivity
W/m°K@R.T.
95.6
Specific Heat
cal/g°C@R.T.
0.16-0.38
Thermal Shock Resistance
D T(°C)
200-250
Maximum Use Temperature
°C
–

ELECTRICAL

| | | |
| --- | --- | --- |
| Volume Resistivity | Ohm. cm@R.T. | 0.45-1.00×10-3 |
| Dielectric Constant | 1MHz@R.T. | – |